9:02 AM Posted In
Cables
,
FO's
,
Knit
,
Knitting
Edit This
I think my most favorite thing about knitting is Cables! I love them. I love the intricate design they weave thru the yarn. Cables are what pushed me into learning to knit because I loved the designs so much. I do have to admit that I was terrified in learning them and they were really difficult for me at first, but I finally managed! I was surfing around the other night and at the
Vogue Knitting
website and in their free patterns I found the
Renaissance Cabled Mug Cozy
(scroll to middle of page). I figured this would be a quick knit for me and a beautiful cabled pattern to boot. Which it was/is! I decided to give this to my co-worker Jo for her oversized-10-gallon-keep-you-caffinated-all-day-coffee-mug. I opted to do buttons for the closure instead of using the string ties as the pattern called for. I remembered buying a pack of really cute buttons at the Dollar Tree sometime back and decided to dig them out and use them. I didnt have any purple thread to match the yarn, but used white instead. It doesnt look to horrid! You can barely tell it. I didnt create any button holes because the pattern had created a nice little place that you could slip the button thru to hold it together all by itself.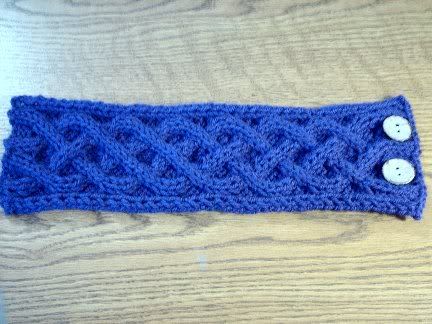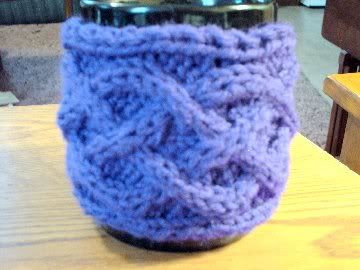 Needle Size: 8 Circs
Yarn: Good Ole Red Heart Super Saver
Pattern: Renaissance Cabled Mug Cozy by Knit Picks
Craft Time: 2 days cause I was lazy. Would have only taken a couple of hrs if I kept at it.